By Josh Barr
The sky was crystal blue and the sun gleamed off the shiny diamond panels of the U.S. Olympic & Paralympic Museum just before 9 a.m. on Thursday, July 30. Several members of the Museum's Board of Directors joined Colorado Governor Jared Polis and Colorado Springs Mayor John Suthers in front of a small invited crowd and used a pair of giant scissors to officially cut the ribbon and open the nation's first comprehensive museum dedicated to U.S. Olympians and Paralympians.
"This Museum has been nearly 10 years in the making, and we are excited that these incredible stories will come to life in Olympic City USA," Museum Chief Executive Officer Christopher Liedel said. "The Museum is more than a sports museum. It is a museum of hopes and dreams. And we think the Museum will provide athletes and fans alike with a space to celebrate friendship, determination and all the best values Team USA athletes embody."
The Museum is open seven days a week, closed only on Thanksgiving Day and Christmas Day. Tickets can be purchased at tickets.usopm.org.
Working alongside local and state health officials and its operating partner Gallagher Museum Services, the Museum has taken extensive measures to provide a safe environment for guests and staff, including timed ticketing and various additional wellness procedures designed to reduce contacts. Each guest also receives a keepsake stylus to use on touchscreens throughout the Museum. More information can be found at usopm.org/safety.
"This shows how you can do things in a safe environment," Polis said, noting that the guests at the Thursday's ceremony wore masks and sat in chairs that were socially distanced on the plaza in front of the Museum.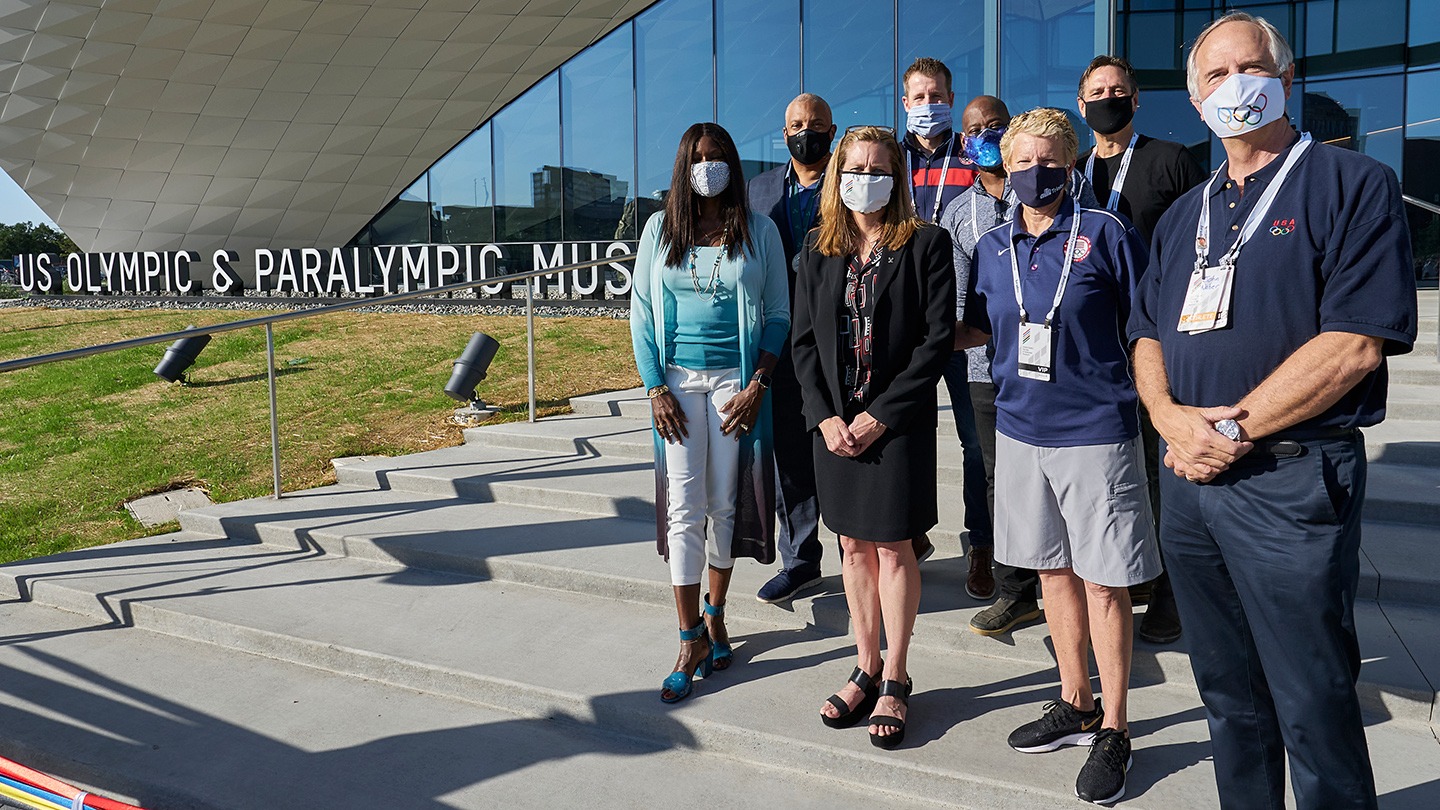 With its universal design and technology capabilities, the Museum is one of the most accessible and interactive museums in the world. Guests can customize their sport preferences and accessibility needs for a tour that is uniquely their own. Team USA athletes were involved and consulted throughout the project to achieve the Museum's goal of an authentic experience and inclusive design.
"This is a historic and transformational day for Colorado Springs and the Pikes Peak Region," Suthers said.
"Henceforth we will be the place where Olympic excellence is enshrined for the ages. Just as people's dreams come true, a city's dream has come true."
The 60,000-square foot building features 12 universal and interactive galleries that were built by Creo Industrial Arts, a leader in museum fabrication. Designed in a narrative arc, guests experience these inspiring stories through cutting-edge technology that prioritizes accessibility and inclusivity. The Museum has been recognized this year by Architectural Digest, Conde Nast Traveler, Smithsonian magazine and The New York Times.
---
---
The Museum's galleries are: Hall of Fame; Introduction to the Games; Athlete Training; The Lab; Parade of Nations; Summer Games; Winter Games; The World Watches; Medal Collection; Theater with NBC-produced film titled, To Take Part; Medal Ceremony; and a rotating gallery that currently features the works of LeRoy Neiman, the official painter of five Olympic Games.
"It's not just a collection of stuff," said Dave Ogrean, chairman of the Museum's Board of Directors. "It's the story of experiences of the athletes. We had a responsibility to tell their stories with passion."
The Museum includes 87 RFID sensors that recognize guest preferences. There also are more than 460 artifacts, with plenty of display screens and countless photos documenting U.S. Olympic and Paralympic history. Among the artifacts on display are the ice hockey goalie Jim Craig's mask and the scoreboard from the Miracle on Ice at the Lake Placid 1980 Olympic Winter Games; a complete set of Olympic torches and medals; gymnast Shannon Miller's scrunchie; a racing wheelchair from 17-time Paralympic medalist Tatyana McFadden; and a bow from Paralympic archer Jack Whitman, who in 1960 became the first American to win a Paralympic gold medal.
After their visit, each guest will have their own digital locker with bookmarks, photos and videos from their Museum experience.
"People ask me all the time, 'How did it feel to compete? How did it feel to win a medal? What did you eat? How did you train?' " said Benita Fitzgerald-Mosley, 1984 gold medalist and a member of the Museum's Board of Directors. "Now, we finally have a place where people can find the answers to all those questions. I hope they will be inspired to go for the gold in their lives, literally and figuratively."