The two-time gold medal gymnast said it was a very personal choice to give the most personal piece of her memorabilia
Shannon Miller has donated leotards, medals and artifacts to other museums and displays, but when asked if she would like to contribute a very specific item to the U.S. Olympic & Paralympic Museum that opened in July 2020in Colorado Springs, Miller initially needed some time to think.
The item in question is extremely personal. There was only one poofy white piece of fabric to which Miller's coach, Peggy Liddick, had hand-glued two dozen sparkles and that Miller wore for every major competition during the peak of her career. It was The Scrunchie.
Listen:
Why the Scrunchie was so special
"I really did hesitate, because it is so personal," Miller said. "In the end, I'm excited that people are going to see it. It's not doing any good sitting in my storage unit. It's better to have people enjoy it. It brings back so many great memories for people: Where were they? What were they doing? Who were they with while they watched the 1996 Olympics? Or the '92 Games or the world championships?
"I still have women that will come up to me and share how they used to wrap white scrunchies around their ponytails and buns so they could 'play gymnastics' while watching us compete. It is heartwarming to know how much of an impact something so small can have. In a way, it symbolizes my career. I was a scrappy little girl with skinny legs and bent knees, but I worked hard and occasionally I had the chance to sparkle."
The sparkly white hair tie certainly holds many memories for Miller. Talking about the Scrunchie and its origins, you can see a smile come to her face.
"It's one of those items that I didn't think too much about throughout my career, other than it was meaningful to me," Miller said. "It meant a lot to have my coach, Peggy, take the time and effort to search for the perfect hair tie, purchase it and then hand glue sparkle so it was one of a kind. And now, looking back and seeing how much excitement and how many memories it holds for so many others that were watching, it's a bit surreal.
"There are leotards from the Olympics, World Championships, National Championships and other international competitions. There are countless pairs of grips. All of those are special. But there is only one Scrunchie.
"Of course I am also pretty impressed that after traveling all over the world I never lost it!"
Miller said the Scrunchie was born out of necessity, as she and Liddick searched for ways to keep Miller's long, thick, curly hair out of the way during her balance beam routine and keep it from distracting the judges. Miller sometimes wore up to three dozen bobby pins at one time. She tried braiding it and looping it back under to keep it as compact as possible for her well-known back extension rolls on the balance beam. Knowing Miller needed a little bit more, Liddick went out and purchased what would become perhaps the most famous scrunchie in the history of the world.
"Only recently did I learn that Peggy went to Saks [Fifth Avenue] to find the perfect scrunchie," Miller said. "I never knew where it came from, just that it was a very sweet gift from Peggy."
But the Scrunchie was not just a hair containment strategy. Liddick also saw it as a way to build Miller's self-confidence. Liddick glued all of the sparkles to the fabric, making it even more unique.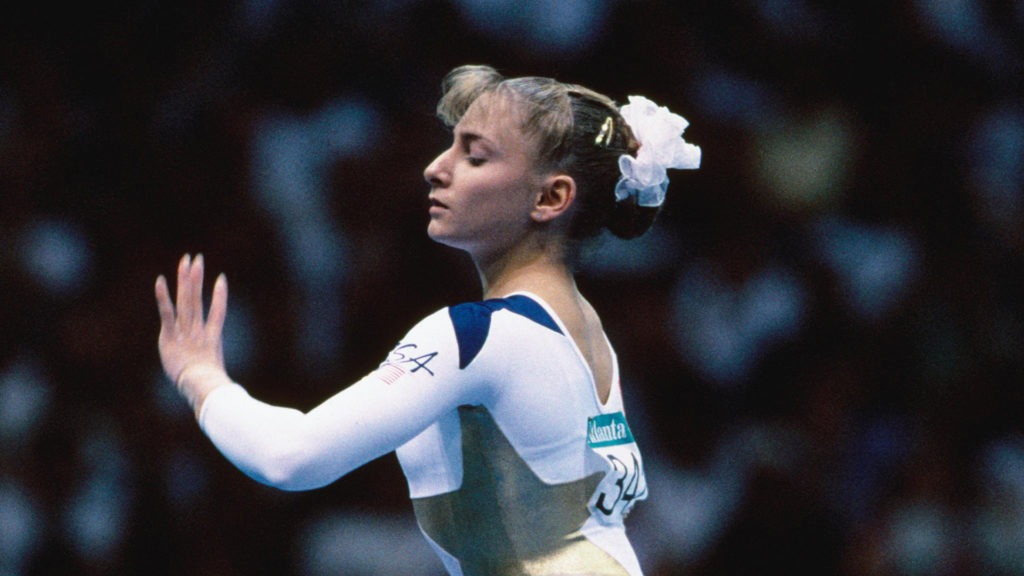 "She just wanted me to feel special," Miller said, noting that at the time sparkles were not a common feature of a gymnast's attire. "I wouldn't say I had a great deal of confidence growing up. I was very shy. Talking years later with her, she said she really just wanted to boost my confidence. She wanted me to have something special to wear."
Miller wore The Scrunchie in every major competition from 1990 through the Atlanta 1996 Olympic Games, where Miller and the Magnificent Seven won the team gold medal.
Following the Atlanta Games, Miller stowed The Scrunchie and some other items for posterity. All these years later, The Scrunchie was still packed away safely in a plastic bag.
"I did have to go through some storage items to find it," Miller said. "I wasn't really sure what kind of shape it was going to be in.
"I do admit before I sent it to the Museum, I put it in my hair and took a couple of pictures," Miller said. "It's hard to let go of. Even though it's been in storage, it was still with me. I'm excited now that it's going to be on display. I'm excited because it's special to me, but it is also special for others all these years later. It's funny how something like that just kind of grabs a hold of you.
"Sometimes there are just those special items that can take you right back to a special moment in time. If seeing my white scrunchie can make someone smile, I want to do that."