The former Ohio governor saw the impact the Rock and Roll Hall of Fame had on Cleveland and hopes the U.S. Olympic & Paralympic Museum will do the same for Colorado Springs
By Josh Barr
Dick Celeste arrived in Colorado Springs in 2002 as the president of Colorado College and saw the opportunity for his new city to make a big splash.
Celeste's resume was vast: member of the Ohio House of Representatives, director of the Peace Corps, two-term governor of Ohio, United States ambassador to India.
It was during Celeste's tenure as the governor of Ohio that the Rock and Roll Hall of Fame was conceived in Cleveland. He saw the impact it made on that city, revitalizing downtown and becoming a source of pride. When Celeste got to Colorado Springs – since 1978 the home of what is now known as the U.S. Olympic & Paralympic Committee and the U.S. Olympic & Paralympic Training Center – Celeste met with local economic development leaders and wondered aloud why there was not a museum dedicated to the Olympic and Paralympic movements.
Nearly a decade later, having retired from Colorado College, Celeste revisited the idea. There was buy-in from local government and philanthropic leaders. Slowly but surely, plans came into place. And now, eight years later, the U.S. Olympic & Paralympic Museum is set to open as the first museum dedicated to the nation's Olympic and Paralympic athletes and their stories and history.
"It was an honest and real vision," Celeste said. "We had to work to make it reality, but it wasn't like this is pie in the sky. You know, I wasn't going out [to raise money] with some startup that nobody ever heard of before that might work or might not work.
"I mean, this is the Olympic Movement and the Paralympic Movement. These people are real and the values are real, and everybody understands that."
Said Museum Chief Executive Officer Christopher Liedel: "We are extremely fortunate to have Dick Celeste on our team. He had the foresight as well as the wherewithal to take this idea and turn it into this incredible monument to our nation's Olympic and Paralympic athletes."
Listen:
Dick Celeste talks about why he thought a museum dedicated to the Olympics and Paralympics could succeed
A decade in the making, Celeste is the Museum's founding chairman. What started as a meeting with then newly-elected mayor Steve Bach in 2011, blossomed into a small working group, which received a grant for a feasibility study that was matched and provided the impetus.
"Fortunately, at that time nobody had told me there had been previous efforts to raise funds and build a museum and that those efforts had fallen flat," Celeste said. "To me it was a completely fresh idea."
The feasibility study examined attractions in the region, identified potential sites and considered the economic viability of a museum. The results were favorable.
The next step was critical, Celeste said: Coming to a longterm agreement with the then-U.S. Olympic Committee, which would help with the ability to acquire artifacts and boost the group's standing when approaching potential donors.
"My father had an expression that he would share with me: 'Don't chase goat feathers,' " Celeste said. "By that, he meant don't chase something that isn't concrete, that isn't real. And I felt asking people for substantial sums of money without a commitment from the U.S. Olympic Committee would be extremely difficult and really wasn't responsible."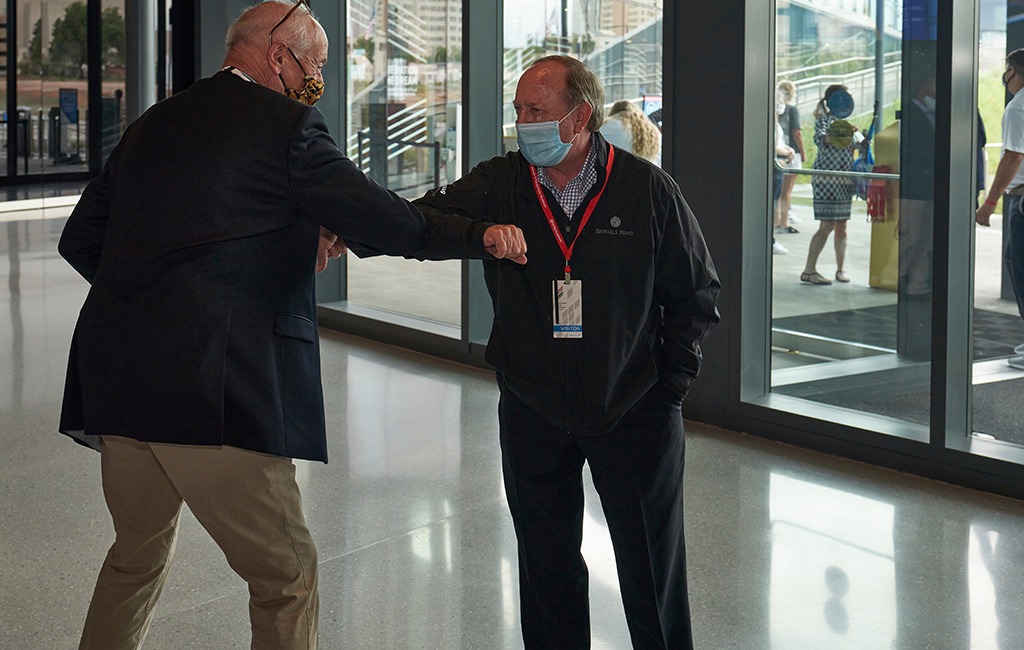 Subsequently, a nonprofit organization was formed. A board of directors was recruited. Fundraising commenced.
Once enough money was raised, an architect was hired, with the goal of creating a statement building.
The groundbreaking ceremony was held in 2017 and the result is a gleaming, 60,000-square foot building in the southwest part of downtown that is set to open to the public.
"There should be enormous community pride in the Museum," Celeste said. "it's there because the community responded to a vision. And I think people are going to be incredibly proud of it. My view is it's going to be on the bucket list of every person who hears about it in our country: 'I have to see that museum, I have to experience it.' "