Experience the excitement of the Games year-round at the U.S. Olympic & Paralympic Museum
Now that summer is over, students (and teachers) are headed back to school! But you don't have to be in school to take a field trip to the U.S. Olympic & Paralympic Museum. Whether you are a history buff interested in learning more about the 1980 boycott or an artist looking to explore new art forms, the Museum has something for everyone!
The U.S. Olympic & Paralympic Museum is one of the most accessible and inclusive museums in the world. Guests can customize their sport preferences and accessibility needs for a tour that is uniquely their own.
Check out our programming below for all the extracurricular activities you can take part in at the Museum this September.
Museum shifting to fall/winter pricing and hours of operation after Labor Day
The United States Olympic & Paralympic Museum will transition to fall/winter pricing and modified hours of operation after Labor Day. During this period, regular admission fees will be reduced, and the museum will be open for general and group visitation Thursdays through Mondays. Groups may also pre-arrange visits on Tuesday and Wednesdays.
Discounts on Museum tickets for Colorado residents through September 30
The USOPM continues to provide Colorado residents with an exclusive opportunity to enjoy one of the country's premier attractions at a significant discount. From now until the end of September, every Saturday starting at 3 p.m., Colorado residents can purchase admission tickets for $5 each with valid Colorado ID. Tickets can be purchased in person or online. Out-of-state guests accompanied by a Colorado resident can access the museum for $10 per ticket. 
Curator Collection, 1936 Olympic Games // Members only
September 14 @ 1:00 pm – 2:00 pm
Join us for a look back on the Berlin and Garmisch-Partenkirchen 1936 Olympic Games with our extensive collection of souvenirs collected by spectators who experienced the Games firsthand. While these 1936 Games were innovative for creating the first Olympic torch and torch relay, the pageantry and publicity were used as propaganda by the host, Nazi Germany. Learn more about these Olympic Games and get a closer look at items that are not on display, such as Jesse Owens' autograph, programs, tickets, scrapbooks and more.
Members will have the opportunity to visit our 1936 Games display case after the presentation, in addition to visiting the Americans and the Holocaust traveling exhibition at the Pikes Peak Library District's East Library.
Not a member? No problem. CLICK HERE to find what membership option works best for you.
Plan an Individual or Group Tour at The Museum
From self-guided tours where you have the freedom to explore on your own to guided tours led by our knowledgeable staff, the U.S. Olympic & Paralympic Museum has a tour designed to fit your needs. The Museum also offers special group rates for gatherings of 12 or more and school group tours designed to inspire and engage young minds. Explore our museum tour options today!
Museum Ticket Package for Two
Looking for fun things to do in Colorado Springs with your friend or loved one? Now with our special Groupon ticket package for two, you can get two admissions to the U.S. Olympic & Paralympic Museum plus two pizzas and two beverages at the Flame Café for only $59!
Explore the stories of Team USA's Hispanic and Latinx athletes.
Read More »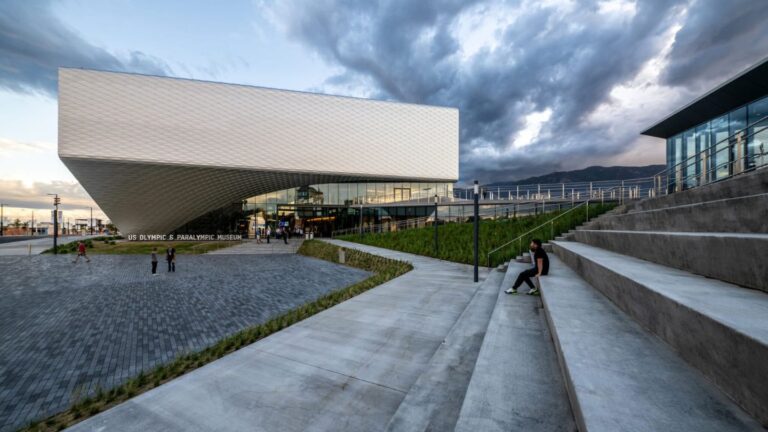 Today marks One Year Out to the Paris 2024 Olympic Games, and Team USA fans can experience the excitement in Olympic City USA. Downtown Summer Fest kicks off on July 27, 2024.
Read More »
PLAN YOUR VISIT TO THE MUSEUM
The 60,000-square-foot Museum, which recently was named by USA Today as the nation's Best New Attraction in 2020, is considered one of the top places to visit in Colorado.
To maximize accessibility for all guests, the Museum features universal and inclusive design and includes accessible media, audio descriptions, wheelchair accessibility, tactility, open captioning and American Sign Language across all video content as well as other accessibility services.
The Museum has taken extensive measures to provide a safe and contactless environment so that guests can visit with confidence.
Tickets can be purchased at tickets.usopm.org.