Experience the excitement of the Games year-round at the U.S. Olympic & Paralympic Museum
Now that summer is over, students (and teachers) are headed back to school! But you don't have to be in school to take a field trip to the U.S. Olympic & Paralympic Museum. Whether you are a history buff interested in learning more about the 1980 boycott or an artist looking to explore new art forms, the Museum has something for everyone!
The U.S. Olympic & Paralympic Museum is one of the most accessible and inclusive museums in the world. Guests can customize their sport preferences and accessibility needs for a tour that is uniquely their own.
Check out our programming below for all the extracurricular activities you can take part in at the Museum and throughout Olympic City USA this September.
Pilates on the Plaza with Olympians // Sep 3
Olympians Samantha Schultz (pentathlon) and Nathalie Schneyder (synchronized swimming) will be leading Pilates on the Plaza at the Museum from 8-9 a.m. on Saturday, Sept. 3! 
Olympic Athlete Meet & Greets // Sep 3
Samantha Schultz and Nathalie Schneyder
Saturday, September 3rd
9-10 a.m.
Olympians Samantha Schultz and Nathalie Schneyder will be doing a meet and greet with guests! Samantha is a 2020 Olympian in the sport of modern pentathlon, and she secured her spot on the 2020 U.S. Olympic Team after winning a silver medal at the 2019 Pan American Games. Nathalie is an Olympic champion in synchronized swimming, winning the gold medal at the Atlanta Games in 1996.
Adeline Gray
Saturday, September 3rd
10 a.m. to 12:30 p.m.
Come meet two-time Olympian Adeline Gray at the U.S. Olympic & Paralympic Museum! Adeline wrestled at the 2016 and 2020 Olympics, winning the silver medal in 2020. She is also a six-time world champion and resides in Colorado Springs.
Museum Ticket Package for Two
Looking for fun things to do in Colorado Springs with your friend or loved one? Now with our special Groupon ticket package for two, you can get two admissions to the U.S. Olympic & Paralympic Museum plus two pizzas and two beverages at the Flame Café for only $59!
Explore the stories of Team USA's Hispanic and Latinx athletes.
Read More »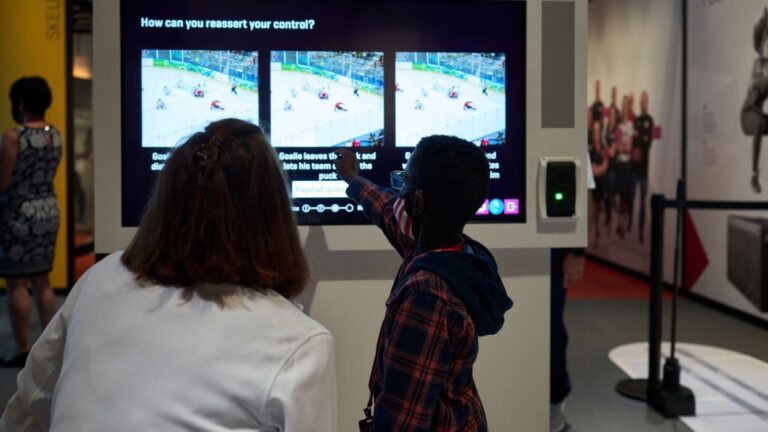 Start your adventure at the Museum, followed by a stop at Flame Café, and then walk across the bridge to America the Beautiful Park.
Read More »
PLAN YOUR VISIT TO THE MUSEUM
The 60,000-square-foot Museum, which recently was named by USA Today as the nation's Best New Attraction in 2020, is considered one of the top places to visit in Colorado.
To maximize accessibility for all guests, the Museum features universal and inclusive design and includes accessible media, audio descriptions, wheelchair accessibility, tactility, open captioning and American Sign Language across all video content as well as other accessibility services.
The Museum has taken extensive measures to provide a safe and contactless environment so that guests can visit with confidence.
Tickets can be purchased at tickets.usopm.org.