The museum is your top choice for fun things to do with the kids this summer in Colorado Springs
Looking for fun things to do with the kids in Colorado Springs during July? Located at the heart of downtown Colorado Springs – Olympic City USA – the U.S. Olympic & Paralympic Museum is the premier destination for all things Team USA. 
It's the perfect place to have a fun and educational experience with the kids. From learning about the history of the Games to trying out the museum's interactive experiences like the 30-meter dash and a virtual archery bow and target.
For family fun in Colorado Springs this summer, look no further than the U.S. Olympic & Paralympic Museum! From athlete meet and greets to watch parties and more, see what's coming up during July at the Museum below!
Grill & Chill with Chef Will
July 6 @ 5:30 pm – 7:30 pm
Join the Museum's very own Chef Will for our first Grill & Chill. On the outdoor terrace overlooking Pikes Peak, Chef Will teaches you how to grill his churrasco steak tacos. He will also walk through how to make a special marinade that you'll be able to bottle and take home with you for your next grilling experience!
Curator Collection with 3x Paralympian & Author Patty // MEMBERS ONLY
July 20 @ 11:00 am – 12:00 pm
Join accomplished author, activist, and two-time gold medalist, Patty Cisneros Prevo, in a discussion about her new children's book, "Tenacious: Fifteen Adventures Alongside Disabled Athletes". The Lee & Low New Voices Award-winning book explores the athletic and life accomplishments of fifteen exceptional athletes who use adaptive equipment to achieve their goals. Patty is a three-time Paralympian in wheelchair basketball, bringing home two gold medals from the Games and seven National Wheelchair Basketball Association titles.
Not a member? No problem. Find a membership option that works best for you.
Meet & Greet and Book Reading // Patty Cisneros Prevo
July 20 @ 12:00 pm – 2:00 pm
Patty Cisneros Prevo is a 2x Paralympic gold medalist in wheelchair basketball and will be meeting with guests and signing autographs from 12-1 p.m. in the Atrium! The 3x Paralympian captained the 2008 Beijing team to the gold medal. Patty – who is also an author and disability advocate – will be doing a book reading from 1-2 p.m. in the Chapman Event Space from her latest book, Tenacious. The kids book explores the stories of 15 different athletes with disabilities.
Regular admission guests are welcome to meet Patty during the meet & greet and join the book reading.
U.S. Women's World Cup Watch Party!
July 21 @ 6:45 pm – 9:30 pm
Calling all Team USA fans! Join us on Friday, July 21 for a watch party, as the U.S. takes on Vietnam in the FIFA Women's World Cup! Your $15 ticket will include all-you-can-eat-pizza, lemonade, cookies and (hopefully!) a Team USA victory! Cash bar onsite. Doors open at 6:45 p.m. for the 7 p.m. match.
One Year Out // Paris 2024 Olympic Games Countdown Celebration
July 27 @ 11:00 am – 2:00 pm
Celebrate One Year Out to the Paris Games at the U.S. Olympic & Paralympic Museum on July 26! Enjoy athlete meet & greets, artifact demonstrations, and indoor curling.
Meet the Athletes: Be inspired by sports stars and Olympians who have represented our nation with pride.
Artifact Demonstrations: Discover iconic artifacts from past Olympic Games with expert curators sharing their stories.
Indoor Curling Experience: Try your hand at indoor curling and experience the thrill of this captivating winter sport.
Exclusive French-inspired Dishes: Indulge in Flame Cafe's special Duxelle Fromage Burger, Salad Nicoise, and Tarte Flambe Pizza. Available only for this celebration!
Museum Ticket Package for Two
Looking for fun things to do with your friend or loved one? Now with our special Groupon ticket package for two, you can get two admissions plus two pizzas and two beverages at the Flame Café for only $59!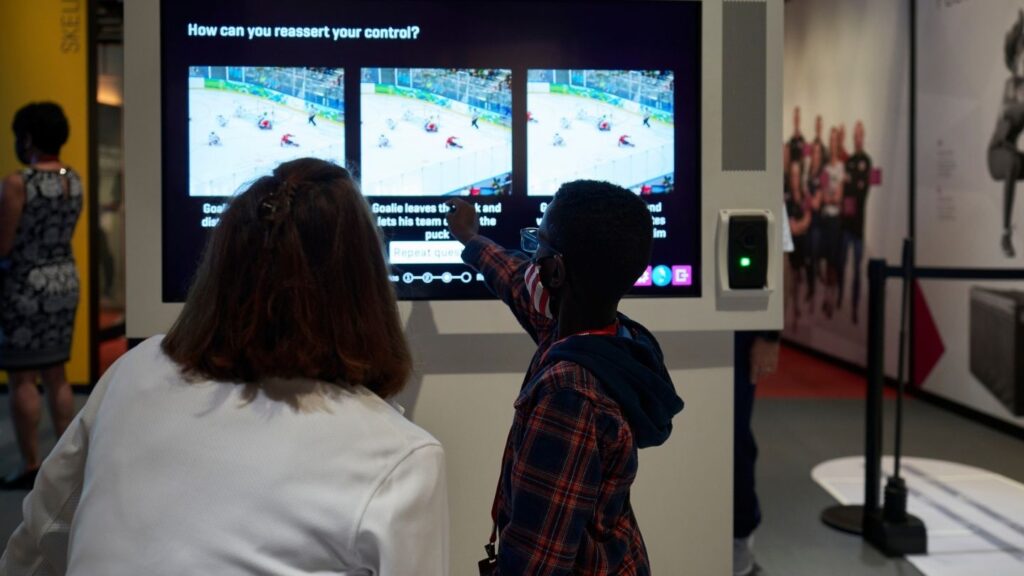 Start your adventure at the Museum, followed by a stop at Flame Café, and then walk across the bridge to America the Beautiful Park.
Read More »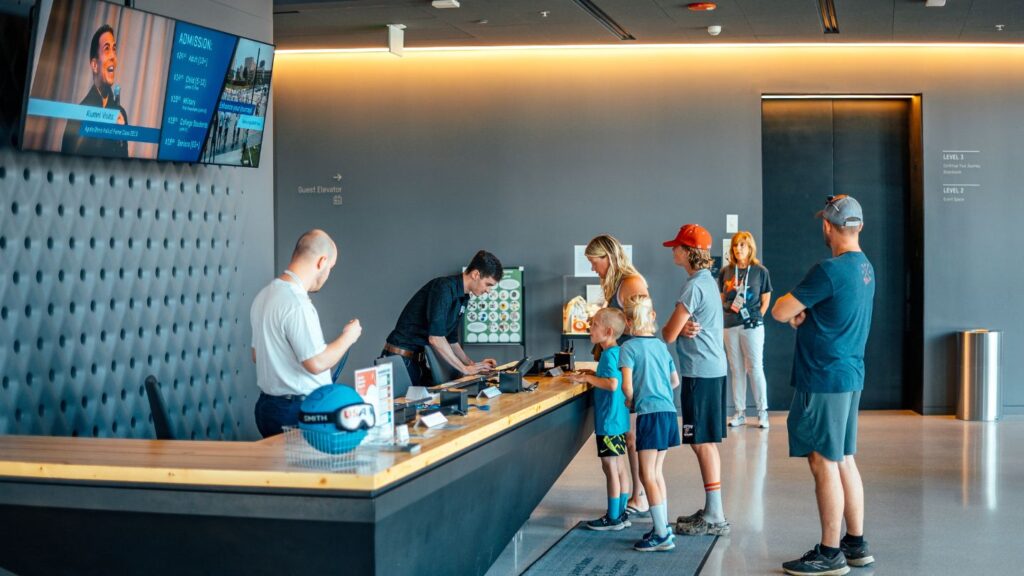 Explore galleries and exhibits at the U.S. Olympic & Paralympic Museum that showcase Team USA athletes and their incredible journeys to the Games.
Read More »
PLAN YOUR VISIT TO THE MUSEUM
The 60,000-square-foot Museum, which recently was named by USA Today as the nation's Best New Attraction in 2020, is considered one of the top places to visit in Colorado.
To maximize accessibility for all guests, the Museum features universal and inclusive design and includes accessible media, audio descriptions, wheelchair accessibility, tactility, open captioning and American Sign Language across all video content as well as other accessibility services.
The Museum has taken extensive measures to provide a safe and contactless environment so that guests can visit with confidence.
Tickets can be purchased at tickets.usopm.org.