Saul and Christa Welger began their lives thousands of miles apart. However, a shared passion for sport and a devotion to building a more unified and inclusive athletic community for all brought them together, forming one of the most dynamic Paralympic power couples in history. 
Saul Welger's story began in New York where he battled polio from infancy. Welger pursued a passion for athletics and showed early promise, particularly in wheelchair basketball. The highly competitive Welger gathered other similarly-situated athletes in his area and helped found the Brooklyn Whirlaways wheelchair basketball team in 1947. 
Only a few years later Welger joined the Pan Am Jets, a professional men's wheelchair basketball team sponsored by the titular airline. In 1955, they became the first U.S. wheelchair basketball team to participate in the Stoke Mandeville Games (the predecessor athletic competition to the Paralympic Games), winning gold.
Welger also won gold in table tennis at the same Games. This marked the beginning of an impressive athletics career, and he and the Pan Am Jets would go on to not only win three more Stoke Mandeville titles, but also the U.S. National Wheelchair Basketball Association Championship in 1956. At the first official Paralympic Games in Rome 1960, a team of Jets won the first wheelchair basketball Paralympic gold medal.
Christa Welger Zander grew up in World War II-era Germany where she too faced polio starting at the age of four. During her years of rehabilitation, she was introduced to sport and she quickly established herself as a fierce, multi-talented competitor. 
German officials took notice. They began exposing her to a wide variety of different events, ranging from swimming to track and field to table tennis – and Welger took to all of them. At the 1958 Stoke Mandeville Games, she won five medals, four gold and one silver, across three sports: swimming, track and field and table tennis.
As national teams like Germany and the United States began preparing their athletes for competition, they realized it would be more cost effective to send a single athlete competing in multiple events than multiple athletes competing in a single event. For this reason, both Christa and Saul trained and participated in a multitude of sports.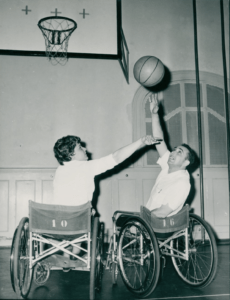 It was at the 1958 Stoke Mandeville Games that Saul and Christa first met. Post-war Germany's limited access to funds and resources left Christa with subpar wheelchair equipment. At the Games, she nervously approached Team USA for additional parts. Saul was there to meet her. 
They quickly bonded and became long-distance pen pals. Despite living miles apart, Saul and Christa found ways to see one another and romance bloomed. They reunited year after year at the Stoke Mandeville and the Paralympic Games, and thanks to Saul's job at Pan Am, he was able to coordinate flights to visit Christa in Germany. Finally, in 1962 they married, and Christa moved to the United States. Relaxed citizenship rules allowed her to join Team USA immediately, and from then on Christa competed under the stars and stripes.
Following their professional careers, the Welgers settled down and began raising their family. Saul became a leading advocate for wheelchair basketball, and with Christa at his side, the duo worked tirelessly to inspire youth with disabilities to pursue athletics. Whenever they learned about a disappointed child or a defeated adult struggling to find motivation and meaning, the Welgers responded using their own inspirational stories to introduce these individuals to sport.
For their achievements, Saul was inducted into the Wheelchair Basketball Hall of Fame in 1976, and Christa was inducted into the National Wheelchair Athletic Association Hall of Fame. Saul passed away in 2002 and Christa in 2019, but their life changing legacy lives on through the Christa and Saul Welger Foundation, a nonprofit organization dedicated to motivating and supporting disabled young athletes to reach their highest potential. 
One of Saul's Stoke Mandeville medals, one of Christa's Stoke Mandeville medals, and Saul's Pan Am Jets shirt are all currently on display at the U.S. Olympic & Paralympic Museum. The Welgers' incredible impact lives on through these contributions, and their message of unity and inclusivity will continue to inspire the world for generations to come.