By Josh Barr
Peter Schifrin was ecstatic and honored when the request came in last fall: Could Schifrin, himself an Olympian, create a sculpture that would be placed near the entrance of the U.S. Olympic & Paralympic Museum set to open in the summer of 2020 in Colorado Springs.
"For me, it's a circle of life," Schifrin said earlier this month as he prepared to see the 400-pound, slightly larger-than-life bronze sculpture Olympus Within crated and shipped from Northern California to the Museum for installation.
"My dream as a young person was to march into the Olympic stadium. I started fencing when I was 13. When I was 26, I made the Olympic team in 1984 and I marched in behind Carl Lewis and all these other great athletes.
"I quit because I knew my career as an athlete was short, but my career as an artist would be long. That I could make a form that might connect to the history of the Olympics is a profound gift and I'm humbled to be a part of it. I'm thrilled as can be. You can't even make that up, that my life would go on that journey."
Schifrin said it was important that Olympus Within honor all Olympians and Paralympians. He chose Al Oerter, a U.S. Olympic & Paralympic Hall of Famer, four-time gold medalist in discus and an athlete that Schifrin considers one of the greatest Olympians of all time, as the inspiration for the mold. Oerter also was an artist and founded the group Art of the Olympians. As part of that group, Schifrin got to know Oerter's widow, Cathy; she gave Schifrin a discus that had been signed by her husband. Schifrin said it is the only piece of sports memorabilia that he has.
"That power and grace connects back to ancient history and the discus is a modern sport as well, so it connects to today," Schifrin said.
It also connects to the Museum building. Designed by Diller Scofidio + Renfro, the Museum is a building in motion; an overhead view of the Museum resembles a discus thrower in mid-throw
To create the form, Schifrin studied pictures of Oerter in competition. He watched carefully as Oerter wound up, spun and threw the discus. He noted the energy that Oerter amassed and the raw power that was unleashed when Oerter threw the discus – and wanted to convey those attributes in the sculpture.
"There are no eyes, no nose. The form is very broad, simplified, abstracted," Schifrin said. "For me, it was about creating the energy. It was also my responsibility to inspire the viewer to their potential. I'm an artist, a teacher, an Olympian. The principles I learned as an Olympian – focus, discipline, training and passion – are characteristics I'm interested in viewing in my artwork.
"I know there are going to be all different kinds of visitors. I wanted this to inspire everyone. Not everybody is an athlete, but everybody has a dream and can pursue excellence over time to be the best we can whether it is in athletics, art, science, medicine or law."
While Oerter's DNA is in Olympus Within, Schifrin considered it important to also include a tie to the Paralympics. Nathan Perkins, a Paralympic discus thrower who lives near Schifrin, had his handprint taken and placed in the bronze at the base of the sculpture.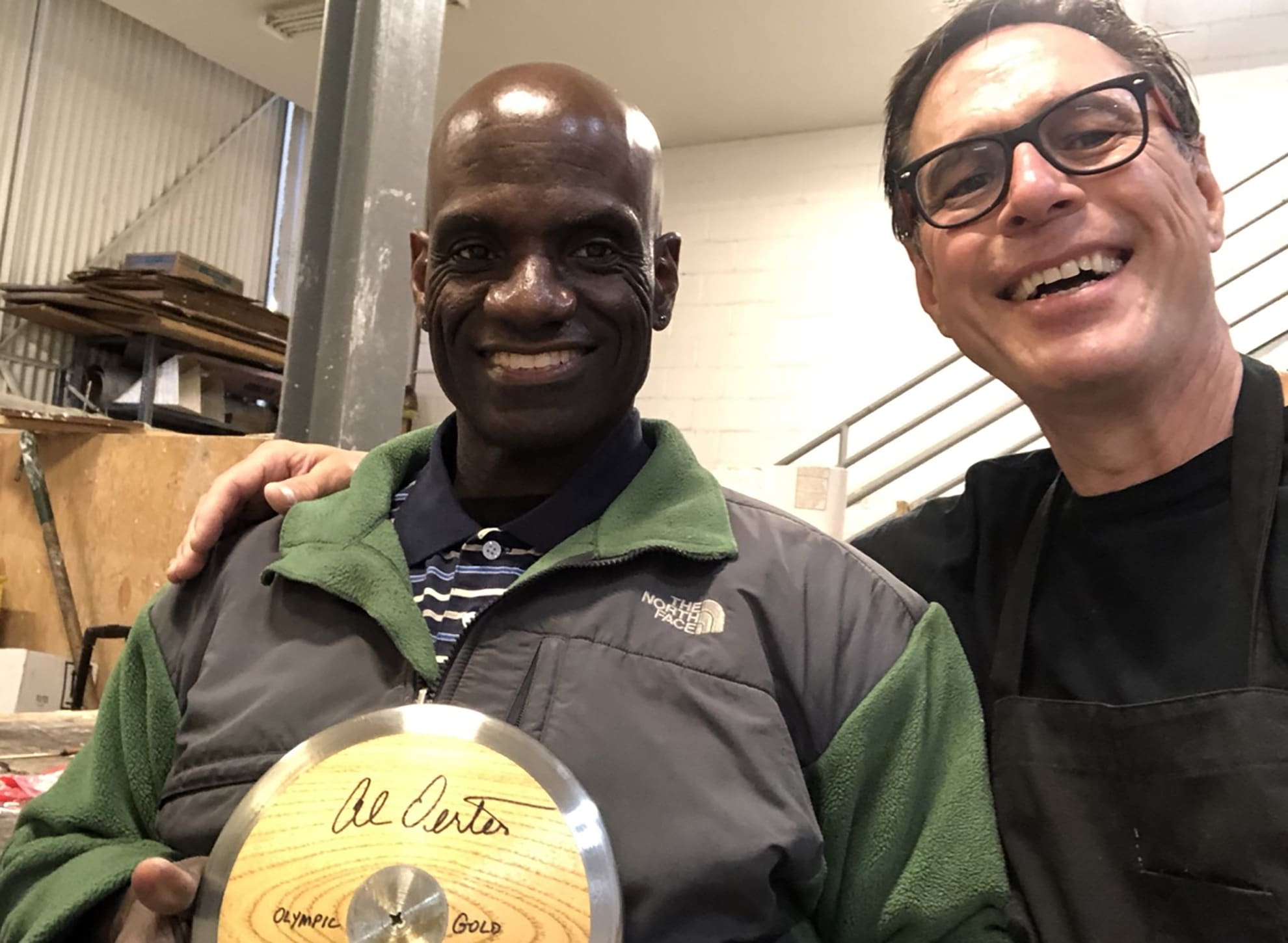 "I hope that my work is modern and ancient," Schifrin said. "The best art asks more questions than answers: What is that? Why is it there? Hopefully the Museum starts to answer the questions.
"This particular piece perhaps resonates more with me than any piece I've made in my life because I spent the first part of my life as an athlete, pursuing this dream to become an Olympian. And then I got the opportunity to create a sculpted form that honors the Olympic and Paralympic story. So there's profound meaning to sort of complete a circle in my life from athlete to master artist and back again, to offer my skills to the Olympian story."