Artist LeRoy Neiman was the official painter of five Olympic Games and enjoyed preserving the image of athletes at their greatest moments
It was during the Montreal 1976 Olympic Games that LeRoy Neiman hopscotched from venue to venue, searching for the iconic U.S. athletes that would become a part of the 9-by-12-foot mural he was painting on a nightly basis before a live television audience.
The official painter of five Olympic Games, Neiman thoroughly enjoyed watching athletes at the peak of their careers – and then putting pencil to paper or paint to canvas to create a lasting memory.
"One thing you will note about whatever Mr. Neiman does is his dedication to the positive, that point at which you find the athlete at his best," then-U.S. Olympic Committee Executive Director F. Don Miller told the Colorado Springs Gazette-Telegraph in 1983.
"I like to sketch them at their highest point possible of excellence, in their clearest possible form," Neiman told the Los Angeles Times in 1984. "I want them to be heroes in my paintings."
---
SLIDESHOW ❘
LeRoy Neiman – Inside the Olympics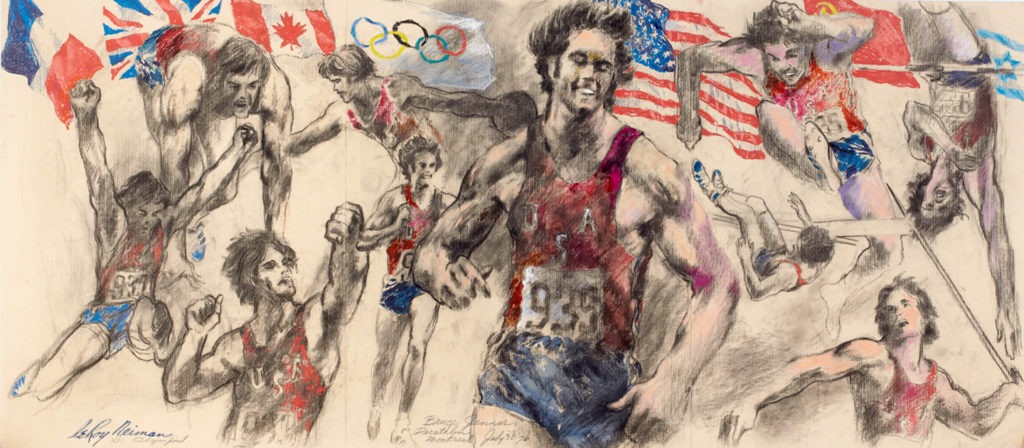 LeRoy Neiman always kept a sketchbook within reach as he traversed Olympic venues; while some were skeptical of his colorful style, Neiman simply coined it: "Neimanism."
View Slideshow
---
Neiman certainly had a unique flair, often wearing colorful jumpsuits, chomping on a cigar and easily identified by his handlebar mustache. If he wasn't clutching his sketchbook, Neiman could often be seen with a variety of bright paints, splattering the colors across his material to create the image he had in mind.
He grew up in St. Paul, Minnesota, and served as a cook in the U.S. Army during World War II. Following the war, he attended art school and then served on the faculty at The Art Institute of Chicago for a decade. He became a contributor to Playboy magazine, then gradually began working sports into his repertoire, attending events and going to work. One of his favorite subjects was the boxer Muhammad Ali.
The New York Jets football team made Neiman their Artist-in-Residence. He captured the drama of the 1968 Democratic National Convention and the 1972 Bobby Fischer-Boris Spassky World Chess Championship. He also painted Broadway show sets, illustrated album covers and created posters for major events.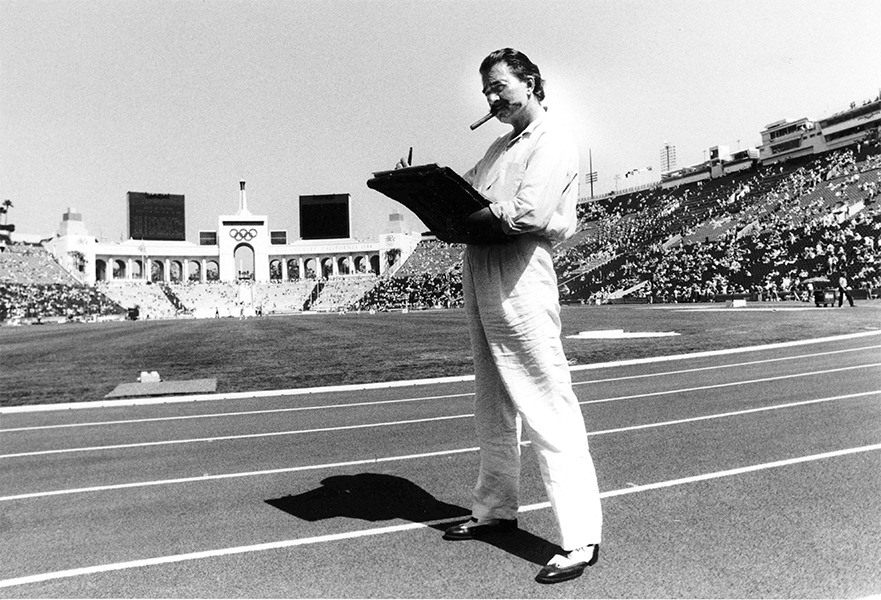 Neiman made his Olympic debut at the Munich 1972 Olympic Games, where ABC-TV first broadcast Neiman in action. Montreal followed, then the Lake Placid 1980 Olympic Winter Games and the Sarajevo 1984 Olympic Winter Games and Los Angeles 1984 Olympic Games.
A showman, Neiman said that how he painted was as important as what he painted. For the Los Angeles 1984 Olympic Games, he agreed to paint in an open space in the Neiman Marcus department store in nearby Beverly Hills.
"If the athletes can perform in front of that many people, I can paint in front of a live audience," Neiman told the Los Angeles Times in 1984. "It's a showcase and a challenge."
Neiman's artistic ability allowed him to prosper, but he was extremely philanthropic. With his wife, Janet Byrne Neiman, in 1986 he established the LeRoy Neiman Foundation in 1986 to fund programs supporting and advancing arts education. During his lifetime, the Foundation donated more than $20 million to art programs at universities and at community centers that support at-risk kids.
Neiman passed away in 2012. He was 91.