By Chase McCleary
As a pair of judoka demonstrated throws, chokes and arm locks, U.S. Olympian Ryan Reser explained the subtleties needed to be a successful competitor in judo during Judo Demonstration Day at the U.S. Olympic & Paralympic Museum. The event was held as a lead-up to World Judo Day on Wednesday, October 28.
"It's all about using your opponent's moves against them," Reser said. "It's also about safety. Learning to fall is one of the first things you learn. Perfect for the ice of Colorado!"
Joined by several Olympic judoka, Reser led three demonstrations in the Museum atrium. Sounds of bodies slapping pads could be heard throughout the Museum and generated curious looks from guests on the upper floor lookouts. In black belts and black masks, Reser, Olympian and coach Toshini Samura and Olympic hopeful Alexa Liddie taught the proper way to fall when thrown, and more importantly, the proper way to get back up.
"I had so many blessings from judo," Reser said. "It instills that confidence that you need."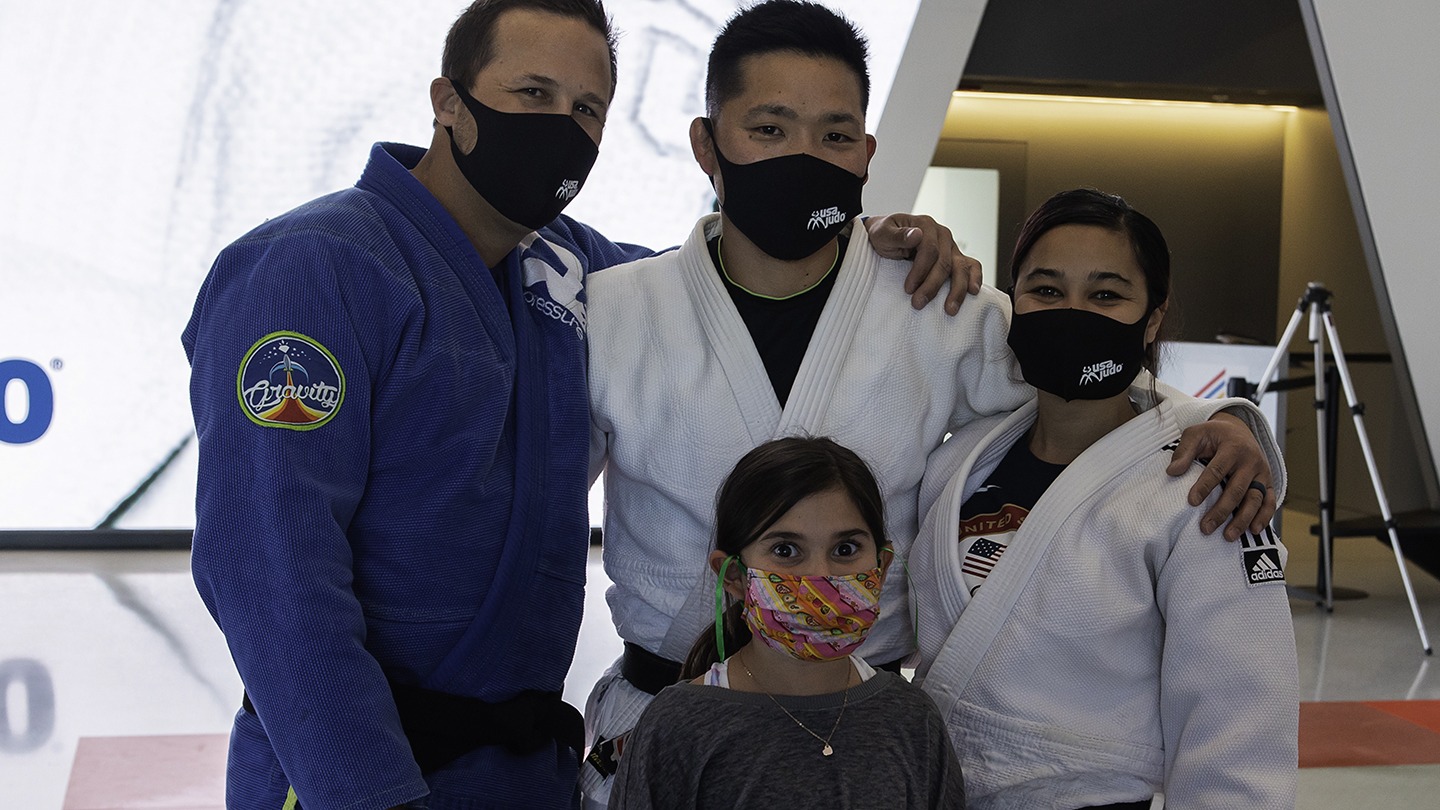 Through keen strategy and artful reflexes, a skilled judoka harnesses the strength and momentum of their opponents to bring them to the mat, as exhibited by the small but mighty Liddie, who had no trouble flipping Samura on several occasions.
Volunteers were given the opportunity to practice some of the techniques. They learned how to slap the mat when falling to better distribute the body's force. They also learned the proper way to throw.
"It's like when John Wayne throws a guy through the bar," Samura joked. "This is the John Wayne throw."
"It was fun. The doll was really heavy, but it was cool," smiled Alex, a young Museum guest who, with some instruction from Reser, flipped a judoka dummy twice his size to much applause.
Reser stressed the importance of teamwork and the lessons of collaboration, cooperation and respect that Judo teaches.
"You're gonna run into [challenges] as an adult, so why not have these lessons taught to you on the mat?" Reser said. "As you get older, you're like 'Oh yeah! I went through this with Judo; this is easy!' "
Chase McCleary, an intern at the U.S. Olympic & Paralympic Museum, is a student at the University of California, Berkeley.