It was during his recovery from injuries sustained in the Vietnam War that he became hooked on skiing, eventually becoming a four-time Paralympian
Bill Hovanic arrived in Örnsköldsvik, Sweden, for the initial Paralympic Winter Games in 1976 and headed to the registration desk.
"Who is the coach?" he was asked.
"That's me," he said.
"Who is the racer?"
"That's me."
Hovanic, whose right leg was amputated below the knee after the helicopter he was piloting was shot during the Vietnam War, would ski in all downhill and cross-country events except one: Event organizers would not allow him to ski all of the legs in the cross-country relay.
As the only member of the U.S. delegation to the first-ever Paralympic Winter Games, Hovanic got to do it all, including carrying the U.S. flag and a sign identifying his team in the Opening Ceremony.
"They asked me at the end of the week how it was going," he said. "And I said, 'Oh, the coach isn't happy with the team.' "
Toward the end of the event, the organizers called me in and there were four of us in there. They found out we were not government sponsored, so they had taken a collection through the week and gave us each a stipend, a few Krona (Swedish currency). It was such a shock to me they were so pleased we came so far.
Yes, Bill Hovanic had a sense of humor and was almost always at peace with things.
He had been skiing a few times as a youngster, but got hooked on the sport while recovering from his injury. Hovanic had entered the U.S. Army as a warrant officer after graduating high school in Warren, Ohio. He remembers enjoying the view along the Louisiana Bayou during early-morning runs throughout basic training at Fort Polk and wondering if he had made a mistake when the instructors continually yelled at the new charges during flight school at Fort Rucker.
Even when his helicopter was shot down during a mission to resupply water to a hillside position, forcing him to crash land, the 19-year-old Hovanic remained calm.
"It's funny how the mind works," Hovanic said. "I wasn't the most disciplined soldier in keeping my boots shined. But even in Vietnam, they want you to look presentable. I remember looking down at … my boot and it was so shiny and I thought to myself, 'I'm glad I didn't waste any more time shining that shoe. The leg was flopping around. I had no control over it. It was a unique experience.
"I'll never forget – before they put morphine in my leg, I looked down the hilltop and felt so peaceful. I didn't know what was going on, but it felt this was the way it was supposed to be."
After a stop in Japan, Hovanic returned to the U.S. and eventually had surgery at Valley Forge General Hospital outside Philadelphia. He wasn't alone, estimating that 40 soldiers per month were coming through for amputations. That was comforting, Hovanic said, knowing that others were going through similar situations.
During his recovery, a nurse asked Hovanic if he would like to go skiing one day in the Poconos. A few days later, the same nurse was heading to Colorado to ski and asked Hovanic if he wanted to join. During those first sessions, Hovanic skied on one leg.
"So lucky for me," Hovanic said. "We went to [Arapahoe] Basin. I fell in love with the sport."
Hovanic loved the region so much that he enrolled at the University of Colorado, heading to the mountains to hit the slopes as much as possible. But after one school year, Hovanic saw that he had a problem.
"I thought I could ski and go to school at CU, but after the first year I realized I couldn't do both," he said. Thus, for the next seven years, it was Boulder and the classrooms in the first semester, Aspen and the slopes in the second semester.
"There couldn't have been a better time in anybody's life than spending those winters in Aspen in the 70s," Hovanic said.
Hovanic visited the Veterans Administration Hospital to see about getting a prosthetic so that he could ski on two legs, but was turned down. He persisted, though, eventually writing U.S. Rep. Pat Schroeder, even though she did not represent the district in which Hovanic lived.
"Within two weeks, I got a letter from the V.A.: 'Come get your ski leg,' " he said. "That really did change my life. Years later, I started teaching in Aspen and then in Winter Park and I said, 'Put that down as a work leg. I'm paying taxes with that leg.' "
Hovanic wrote Dr. Ernest Burgess, known for his work with amputees, to inquire about international ski races for the disabled. "He sent me a letter that was all in French, the only thing I could understand was the name of the race and the dates," Hovanic said, knowing he wanted to head to Le Grand-Bornand, France, for an event that was held by the International Sports Organisation for Disabled. Once there, he had such a good time, that he did not want to miss the next big race two years later – the 1st Olympic Winter Games for the Disabled, which would later be known as the first-ever Paralympic Winter Games.
"I was surprised I was the only one who showed up," Hovanic said. "But there was no funding. The disabled, we weren't looked at. It's just the way society was at the time."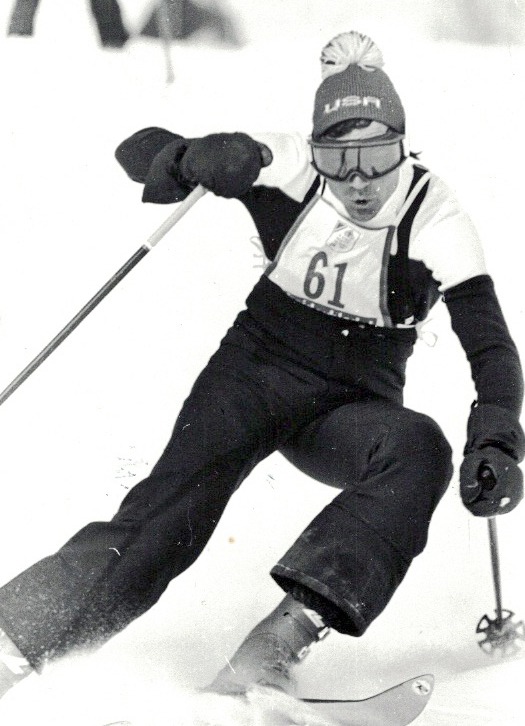 Bill Hovanic remembers getting his first pair of skis from Wells Lange of Lange Ski in Broomfield, Colorado. Wells was a veteran and "he was very kind to all veterans. He said, 'Come on down to the shop in Broomfield and we'll get you set up with skis and boots."
Hovanic went on to participate in three more Paralympic Winter Games, narrowly missing a medal when he finished fourth in the men's giant slalom at the Geilo 1980 Paralympic Winter Games. He has followed the Paralympic Movement through the years and also spent more than two decades teaching others to ski. Retired now, he lives with his wife, Devyn, in Winter Park, Colorado, and expects to get at least 100 days of skiing this season.
"I still enjoy the fresh air and the view," he said. "There is so much more to skiing than going left and right. You meet people from all over the world. For 20 years, I asked every person I rode the chair with if they thought that any two snowflakes were alike. It took 20 years for me to realize that's a more spiritual question that you can imagine.
"It makes me feel so blessed that I am able to get out and ski. Even in years that there isn't wonderful snow – a lot of locals will turn their nose up and pooh-pooh it – but I'll ride up a chair with someone from Nebraska or Kansas and they are so thrilled. It reminds me how blessed I am."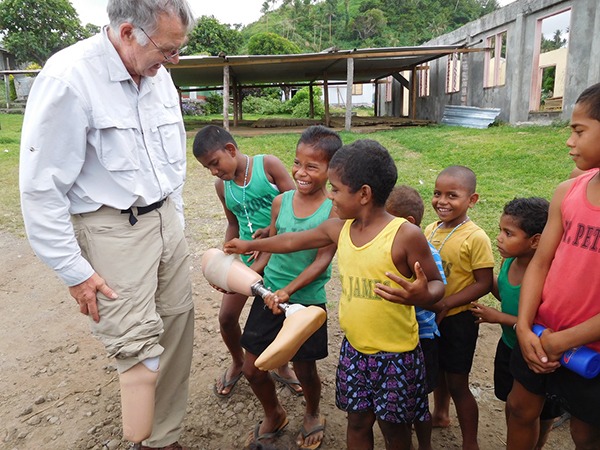 Bill Hovanic still gets on skis as much as possible, though he now enjoys telemark skiing, which combines elements of Alpine and Nordic skiing. "I can't say I get out every day," he said, "but well over 100 days a year."